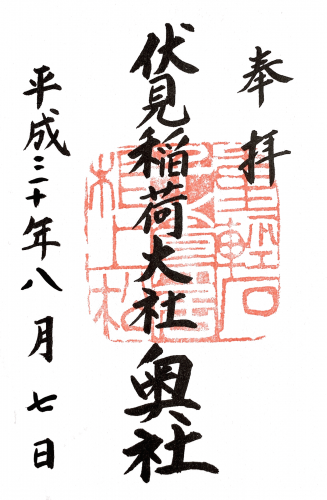 – Fushimi Inari Shrine (Oku) – 伏見稲荷大社奥社 –
Kyoto(京都) – August 7, 2018
Fushimi Inari Shrine is a large shrine in the Fushimi ward of southern Kyoto that's famous for it's long, red torii gate lined paths up Mt Inari. It is the head shrine of all the inari shrines across Japan dedicated to Inari, the shinto god of rice. There are over 30,000 in Japan, making it the most numerous of all the kinds of shrines.
In addition to its famous red torii, you can also find statues of foxes throughout the premises. Foxes are believed to be the messengers for the god Inari and you can even have kitsune (fox) udon at the rest area on your way up the mountain. You can also write a wish on the cute fox-shaped ema boards or get goshuin with fox images on them.
Hiking up the trail to the shrine and back takes most people at least 2 hours, but you can turn back at any time. Be warned that if you have a camera, you could wind up spending more time than you expect exploring because this shrine is very photogenic. I'll admit that we gave up at the rest area on this visit to the shrine.
There are usually at least 3 goshuin available at this shrine. This is the goshuin for the oku (inner) shrine.
The three goshuin for Fushimi Inari Shrine include:
Fushimi Inari Shrine (Oku)
Vlog from this visit
Links
Homepage (EN)
Instagram (JP)
Location