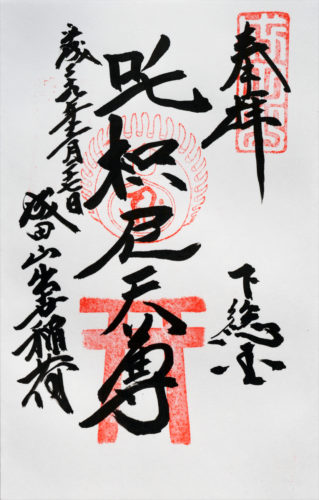 – Naritasan Shinshoji – 成田山新勝寺 –
– Shusse Inari – 出世稲荷 –
Narita (成田) – December 27, 2017
Shusse Inari is an example of the odd mixing that occurred between Shinto and Buddhism in Japan. It's totally a shinto style inari shrine but it's a temple. Unlike most of the locations on the Naritasan Shinshoji grounds, it also doesn't appear on the English information map but does appear on the Japanese one. I'm not sure why.
I visited home for the first time in almost two years during winter vacation this year. On the way home I had a whopping 8 hour layover in Narita, so I decided to go check out Narita-san Temple.
Naritasan Shinshoji has several temples on the grounds and you can get six different goshuin when you visit. They have a map on their Japanese site. Yes, it's all in Japanese, but there are enough images on there to make it easy to understand. You'll be granted a goshuin for 300 yen each and if you'd like the Naritasan goshuincho, it costs 2000 yen and you can choose from 3 different colors.
The goshuin you can receive at Naritasan Shinshoji are: Great Main Hall, Shakado, Shusse Inari, Komyodo, Iouden, and the Great Peace Pagoda.
Location