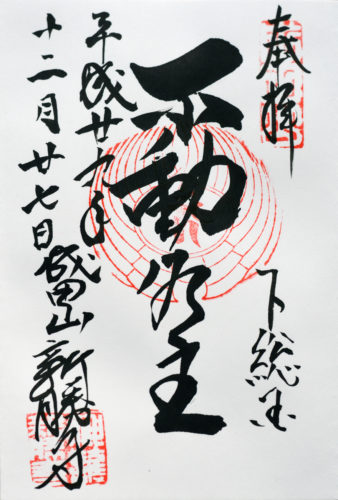 – Naritasan Shinshoji – 成田山新勝寺 –
– Great Main Hall – 大本堂 –
Narita (成田) – December 27, 2017
The Great Main Hall (Daihondo) was built in 1986, making it one of the newer buildings on the grounds. When you walk through the gate, across the bridge, and up the stairs, this is the huge building that dominates the plaza. To the right of it is the beautifully painted three story pagoda that was built in 1712.
I visited home for the first time in almost two years during winter vacation this year. On the way home I had a whopping 8 hour layover in Narita, so I decided to go check out Narita-san Temple.
Naritasan Shinshoji has several temples on the grounds and you can get six different goshuin when you visit. They have a map on their Japanese site. Yes, it's all in Japanese, but there are enough images on there to make it easy to understand. You'll be granted a goshuin for 300 yen each and if you'd like the Naritasan goshuincho, it costs 2000 yen and you can choose from 3 different colors.
The goshuin you can receive at Naritasan Shinshoji are: Great Main Hall, Shakado, Shusse Inari, Komyodo, Iouden, and the Great Peace Pagoda.
Location